| | |
| --- | --- |
| Name: | Derek Lively |
| NCCP Number : | 6318351 |
| Martial Arts Experience (years) : | 38 years |
| Position : | Senior Pekiti Tirsia Coach |
National Coaching Certification Program (NCCP) Certifications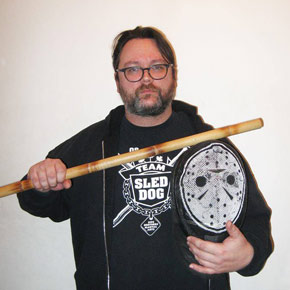 Responsibilities at CMAA:
Derek is responsible for leading and co-ordinating Pekiti Tirsia Kali program at CMAA.
History:
Derek Lively started his Martial Arts Journey back in 1980 in New Liskeard Ontario with Tae Kwon Do, under Instructor Jerry Racicot. In 2003 he started training a the Bob Carver Thai Boxing Academy, where he studied…Yes Muay Thai, but also Mande Muda Silat, Krabi Krabong, Jun Fan Gung Fu, and Inosanto Lacoste Kali. A few year later, he met Tuhon Phillip "Sled Dog" Gelinas and began training in Pekiti Tirsia Kali, he also Attended Grand Tuhon Leo Gaje's yearly Canadian Seminars. In 2006 with some friends, he started "Ottawa Pekiti Tirsia" A Pekiti Tirsia Kali Training Group, and in 2015, he co-founded "Team Sled Dog Ottawa", a Pekiti Tirsia Training Group that hosts Tuhon Gelinas once a Month in Ottawa, with an emphasis on the "Doce Methodos" Structure within Pekiti Tirsia Kali. Derek continues to fight in full contact stick and weapons fights at the yearly "Beat the Crap out of Cancer", and the Canadian Dog Brothers Gathering, where he has the rank of "Dog".